In Mr. Smith Goes to Washington, the naïve Mr. Smith yields the Senate floor out of courtesy to a colleague, In doing so he loses his ability to debate on his legislation to prevent graft and corruption,  Mr. Smith learned the hard way about the importance of knowing procedural rules. Officers and members of boards and and associations need to know the rules of order to achieve their goals and help their enterprises succeed. Our expertise includes:

Meeting and Session Governance Services

Presiding Officer Services

Delegate Convention or Assembly Services

Strategic Procedural Planning Services

Bylaw Drafting, Review, and Revision Services

Written Opinions Services

Many businesses, organizations, and associations focus on what they ought to focus on: achieving their primary objective whether the objective is to make a profit or to pursue a stated purpose. The last thing they think about is the efficient conduct of meetings, bylaw reviews, or following proper parliamentary procedures. In many instances this is of little consequence until a situation arises that requires scrutiny. In many circumstances, scrutiny brings serious flaws, controversy, and costly processes to reconcile.

The purpose of Call To Order is to focus on the bylaws and procedures so you don't have to. Call To Order will provide parliamentary consulting services to agencies, associations, and organizations including bylaw writing and consulting, presiding officer services, and parliamentary advisory services at conventions and other large gatherings. We can provide services on an hourly basis, project basis or on retainer for ongoing consulting services. Call To Order can assist businesses as well as churches or church organizations, home owner associations, nonprofit organizations, and other private organizations or associations.

Visit our Services page to explore a more in depth description of our services. The testimonial page provides you with statements about what others think of Call To Order. Or visit our In the News page and FAQ page to learn more about how parliamentary procedures apply to you today. Thanks for visiting!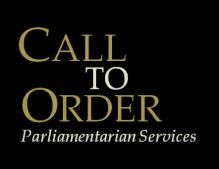 © 2011-2014 Call to Order Parlimentarian Service

Independence Hall, Philadelphia,PA is where the Second Continental Congress debated and passed the Declaration of Independence, and where the Constitutional Convention debated and adoped the U.S. Constitution.